Dermal fillers come in two types, semi-permanent and permanent. Semi-permanent ones are biosynthetic and are produced without animal products, so there is no risk of allergic reaction. They do not migrate and the effects are minimal. In addition, they can be topped up as needed.
In this section your going to learn:
Different types of acid fillers
How temporary fillers work
Treatment areas for dermal fillers
What's Best For You!
Both semi-permanent and permanent dermal fillers are composed of collagen and PMMA. Because they are biodegradable, they stay in place, making them a good choice for deep wrinkles and acne scars. Because they have a high degree of permanence, you will need several injections to achieve the desired volume.
This type of filler is best suited for patients who want a more natural-looking outcome without the need for a surgery.
Types Of Acid Fillers
Hyaluronic acid and caloric acid are the two most common dermal fillers used to augment the face. They're both hydrophilic, meaning that they add volume without causing a negative effect on your skin. These fillers are highly effective and long-lasting, typically lasting six to 12 months.
Depending on the treatment and the desired effect, hyaluronic acid fillers can be used to enhance lips and add volume to the chin or cheeks. Calcium hydroxyapatite, which is a more natural-looking substance, is also a popular dermal-filler. It's a thicker, viscous material that takes a while to break down. However, unlike hyaluronic acid, it does not dissolve as quickly as hyaluronic acid does.
Hyaluronic acid and collagen are both semi-permanent. While they can be biodegradable and absorbed by your body, permanent dermal fillers should be performed by a qualified doctor who is experienced with using them. Besides, temporary dermal fillers are safe and adaptable to different areas of the face, which is why you can choose the best one for your needs. When you're considering dermal fillers, make sure you have a consultation with a qualified plastic surgeon to find out more about these products.
Unlike temporary fillers, permanent dermal gels can be easily removed or dissolved in the body, allowing the patient to have a smoother look. Because these are biodegradable, they are a good choice for patients who have a traumatic facial injury. The procedure is a painless and convenient option for patients who wish to enhance their appearance.
Both temporary and permanent dermal fillers have the potential to revert their effects. The temporary variety is easy and safe, and it doesn't require surgery. It is also a good choice for people who don't want to undergo surgery to restore their appearance. It is a great option for patients who want to improve their looks but are worried about the risks of injectables. The pros and cons of both treatments are clear.
So Just How Good Are Temporary Fillers?
Treatment areas include:
Frown lines between the brows, also called forehead folds, can be treated with dermal fillers.
Cheek augmentation with dermal fillers can be used to give the face a fuller appearance, making it seem younger.
In this area of treatment, wrinkles can be removed to give the appearance of a more youthful face.
Treatment in this area makes the jawline/chin appear sharper and more defined.
Lip enhancement can be used to augment thin lips or add volume to thinning lips.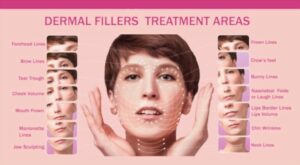 Temporary fillers are a great option for cosmetic procedures. They are not permanently fixed and can be adjusted as necessary to achieve the desired look. Because our bodies are made of living cells, they are always in motion.
The problem with permanent fillers is that they do not allow for growth and manipulation of facial bones. This can be problematic for the patient. But there are still many permanent fillers, so permanent fillers are an excellent option for patients who are concerned about their appearance.
While these substances can be permanent, they do not have any side effects. In most cases, semi-permanent fillers can restore lost facial volume and contours, and help smooth shallow-deep lines and folds. But, if you do not want to undergo surgical treatment, it is best to opt for the non-invasive method. The process of getting a facelift is not a simple one and it will require time.
Semi-permanent fillers are used to restore facial volume and smooth deep-set wrinkles and folds. They can also be used to enhance cheekbones and add volume to thin and wrinkled skin. They aren't effective for treating frown lines on the forehead and crow's feet around the eyes. The most recent permanent non-HA products are Laresse and Novobel.
Benefits of Temporary Dermal Fillers
Non-invasive
Affordable
15 minutes Procedure
They can stimulate skin to grow its own substances
Last from 3-6 months
Limited discomfort and downtime
If you want to add volume to your lips, you can consider having a temporary filler procedure. These treatments are non-invasive, and there is no recovery time. They are popular for those who want to try different sizes and volumes.
But they will eventually melt away and you may need to touch them up. If you are thinking about getting this type of procedure, there are a few things you need to know.
Temporary lip fillers are the most affordable option for those looking to enhance their lips without having to undergo surgery. Most fillers come in a syringe, so the amount can be controlled easily. You can also get a natural-looking fuller look by having the filler done.
Are Temporary Fillers Right For You?
The main benefit of temporary fillers is that they can stimulate the skin to produce its own natural substances. This will also boost collagen production, which is vital for skin repair and elasticity.
While the downtime is minimal, most patients recover within a week. Patients are free to resume normal activities after the treatment however it is best to be careful on what type of activities you do. We created a great post on What not to do after lip fillers you can visit to learn more
Some possible side effects of temporary lip fillers include pain, lip swelling stages, bruising, or asymmetry. In rare cases, a person can develop a nodule or even skin necrosis.
However, it is important to consult with a licensed cosmetic surgeon before undergoing the procedure. They can advise you on the best type of temporary fillers to use for the best results.
Choosing a cosmetic surgeon is an important decision. This procedure can make a huge difference to the overall look of your face.
Aside from being temporary, a cosmetic filler can be removed if you need to change your mind about the results. It is important to choose a qualified practitioner.
Book a Consultation
Dr Majid Shah is a cosmetic doctor offering a range of non-surgical cosmetic procedures, including dermal fillers. As an expert provider visit our main lip fillers in Birmingham page to book a Free consultation at our Birmingham clinic or call 0121 514 2385
Dr Majid Shah is widely considered one of the leading physicians of injectables in the UK & Birmingham.