Dermal filler procedures, such as Botox injections, have grown in popularity in recent years. These skin procedures are a safe and effective treatment method for treating moderate to severe wrinkles. When it comes to those who are looking for effective results to mitigate the natural signs of aging, these types of procedures can be helpful.
There are many different types of dermal filler procedures. Two of the most popular treatment methods include Botox and Dysport injections. If you were to do an online search for either of these brands, you will likely find a lot of information. It can feel overwhelming to sift through all the results if you are orienting yourself to the industry.
This article Botox and Dysport is intended to help you get started and make your search a bit easier.
Here, we'll discuss what Botox is, what Dysport is, and how the two procedures compare. The end goal is to help educate you on both options so you can make the best treatment decision for your needs.
What Is Botox (botulinum toxin)
Botox is a botulinum toxin type A procedure. It is an injectable that is administered by a trained professional that helps to eliminate the appearance of moderate to severe lines and skin wrinkles. Treatment areas may vary but typically include the face and neck.
This type of skin treatment can be used preventatively or as a regular care option. It is a viable option for most individuals looking to take their skincare routine to the next level.
How Does Botox Skin Treatment Work
Botox, also known as botulinum toxin, is a popular and effective treatment for smoothing out wrinkles in the face and skin. It works to relax the muscles under your skin, preventing them from creating expression lines. Although originally only used to treat muscle spasms, it has been found that Botox can be used to treat many other conditions by relaxing otherwise uncontrollable muscles.
What Is Dysport?
Dysport is another type of injection that has become increasingly popular in the world of dermatologic care. Also administered by a skin specialist, this type of injection is used to treat moderate to severe lines and wrinkles between the eyebrows without compromising the natural movement of muscles in this area.
This prescription injection is currently approved for use in 69 countries and has received a high level of satisfaction from customers.
Dysport also diffuses differently than Botox. It often spreads to a broader area following injection meaning a larger skin area can be addressed in a single injection. However, this makes it more difficult to treat smaller, more targeted areas. Botox tends to be more effective when it comes to precision.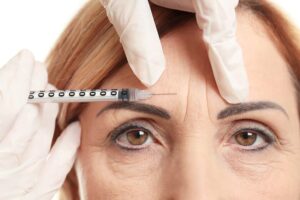 Dysport vs Botox How Are They Similar? 
Botox and Dysport are similar in many ways. As mentioned, they are both injections that are administered by trained specialists to help temporarily reduce the appearance of lines and wrinkles associated with skin aging. Both Dysport and Botox are very popular treatment methods.
These two injections also work in the same fashion. Botox and Dysport are designed to block nerve activity in the muscles, which forces the muscles to relax. Wrinkles appear when the muscles in the face and neck are constantly contracted, so the release helps to reduce this appearance on the skin.
Dysport vs Botox: Who Is A Great Candidate
A great candidate for either skin treatment is someone who wants to minimize the appearance of deep wrinkles and fine lines without surgery or downtime. Both treatments are relatively quick and easy to administer, with minimal side effects from the injections.
strabismus (crossed eyes)
facial muscle spasms
temporomandibular joint disorder symptoms
migraine
depression
foot pain
overactive bladder
gastroparesis
chronic migraines
frown lines
acne scar treatment
However, Dysport is newer to the scene and may be able to offer some features that Botox cannot. For example, it can last longer than Botox and has shown fewer side effects in clinical trials.
In addition to treating wrinkles Dysport can both be used to treat other conditions such as
cervical dystonia (cervical dystonia)
blepharospasm (blepharospasm)
slower limb spasticity due to cerebral palsy
It is also important to mention that the results of Botox may take longer to see but typically last longer. Botox treatment can last upwards of six months, while a Dysport treatment only lasts three to four months after injections.
Treatment Cost
While treatment costs can vary depending on the situation, Dysport tends to be slightly more affordable than Botox (botulinum toxin). Of course, there are many variables to consider, but generally speaking, Dysport is the cheaper cosmetic option.
One last thing to mention for Botox and dysport is the onset. Dysport is quick. Once the injections are administered, individuals can see initial results in 24 hours. Botox, however, is slower to show. It typically takes up to 72 hours for patients to see the results of a single Botox injection.
Side Effects
As with any medical treatment, both can cause adverse reactions in patients.
Minor side effects include
pain or swelling at the injection site
droopy eyelids
muscle weakness
More serious side effects may occur. Individuals should consult a medical professional before selecting either treatment option.
Final Thoughts
If you are in the market for a dermal solution to combat the signs of aging, dermal fillers such as Botox (botulinum toxin) or Dysport may be good options to consider.
Dysport and Botox treatments are recommended for those who need a bit more support than a traditional topical aid can provide. Botox and Dysport are safe, effective, and accessible to many people.
When researching Dysport and Botox, it is important to understand what they are, how they work, and how they compare. There is a lot of information out there and it can be difficult to sift through. Considering the differences between Dysport and Botox and consulting your medical care provider for additional guidance is always recommended.
We hope the details for Dysport and Botox provided here serve as a launching pad for further exploration into these dermatological methods so you can make the best choice possible for your cosmetic goals.
Your Botox & Dysport Professional
When you visit the #1 Botox clinic in Birmingham, you can expect to have a relaxing experience. I will will not only make you feel comfortable but also guide you through all of your treatment options.
We believe in providing patients with the best care possible, so our staff is made up of highly-trained professionals who are masters at their craft. Whether you need wrinkle reduction or facial rejuvenation, we'll provide you with great results.
If you want to look younger without having to undergo any invasive procedures, then Botox (botulinum toxin) may be right for you. Botox is a type of medication that can be injected into your skin to reduce wrinkles and fine lines on your face and neck.
You can book a consultation with me in person at my Botox clinic in Birmingham to discuss further.