Are you a man looking to enhance your appearance without surgery?
Non-surgical lip fillers for men may be just what you need.
Hollywood's leading men have been using these treatments to achieve fuller, more youthful-looking lips.
Dermal filler treatments involve injecting a hyaluronic acid gel into your lips to add volume and shape, and the results are natural-looking and safe.
To ensure the best results, it's crucial to find an expert practitioner with experience in injecting fillers into male lips.
With a gender-inclusive approach to cosmetic treatments, there's no reason why men can't benefit from these treatments too.
Read on to discover the many benefits of non-surgical lip fillers for men and learn how to find a skilled practitioner near you.
The Star Celebrities Getting Lip Fillers
In Hollywood, fillers for men are becoming a trend. Many men are getting dermal fillers for the first time to have fuller, more youthful lips. The results can be quite striking, and many men feel more confident with their new look.
Some of the most popular male stars who have gotten lip fillers include Brad Pitt, Leonardo DiCaprio, Tom Hardy, Zac Efron, and Justin Bieber.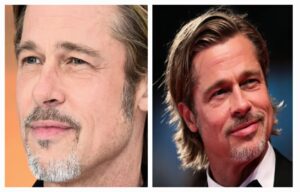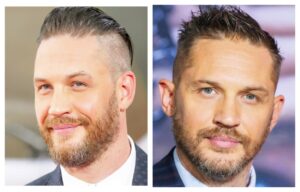 Why Do Men Get Lip Fillers?
The goal is for most men to achieve better definition, shape, or symmetry with aesthetic lip fillers. Moreover, dermal fillers for men will help restore youth and be refreshed.
Whether a person is male or female, thin lips may cause the individual to feel insecure. As the person ages, the lips may lose collagen and elastin, the lip's natural plumping proteins.
The lack of proteins can cause the lips to thin out over the ages.
Now, this is where it gets a bit technical. Overall, lip filler works with a substance, which is typically hyaluronic acid. A practitioner injects that substance into the lips to boost the body's supply of HA to replace lost volume.
Aside from being great for making your lips seem fuller, HA can also help reduce wrinkles, define your facial shape, and improve your look.
What Is the Difference Between a Lip Filler for Men and Women?
Overall, the main difference between the two lip augmentation procedures is how much lip filler people want.
While women tend to search for more "plumper" in their upper or lower lip, men often prefer a subtle change without the necessity of plastic surgery or other harsh injectables.
The Lip Filler Treatment Procedure for Men
You'll get an experienced medical professional who will care for you in a way that makes you feel as relaxed and comfortable as possible.
The procedure is completely painless, and you can interact with people while it's being done. It's also quick. Depending on the injected area, the process only takes 15-20 minutes.
How Long Does it Last?
It depends on the type of filler used on your lips and your age. Typically, you can expect the lip fillers to last between six to 12 months since the body will metabolize the HA over those months.
Keep in mind that men are known for metabolizing Botox and dermal fillers for the lips faster than women because men tend to have a higher metabolic rate. Still, the longevity of the lip filler will vary depending on your metabolism.
Once the patient notices his lips are getting thinner again, they may contact a practitioner and schedule an appointment for more dermal fillers for their lips to contour their face.
Are There Side Effects?
As with any other cosmetic methods for the mouth, jaw, nose, chin, and any other one for your skin, there may be some side effects. Those side effect include bruising or swelling of the treated area.
If you experience the lip filler swelling stages or side effects they will tend to last around seven days. For bruising some people may use Arnica or an ice pack to minimize the effects. 
Interested in learning more on how to prevent any damage or post treatment problems? See this guide on What not to do after lip fillers .
Aftercare Tips to Improve Your Treatments?
Some men aren't ready to have dermal fillers to improve the shape of their lips, and that's okay. Some methods can naturally help you achieve a smooth and better look before and after augmentation for your lips, skin and other areas.
Some products, such as a scrub or a dry toothbrush, can occasionally use to remove dead skin cells on your lips. Fortunately, exfoliating your skin and lips can stimulate blood vessels, providing you with more volume in a natural way.
If you have a significant amount of facial hair, it may be difficult for people to notice your lips immediately, especially if they're already thin. Beards are known for causing a distraction for your lips, so removing that from your face may help you provide more "volume" to your lips without much else work.
It should go without saying that staying hydrated is essential if you want your skin to stay healthy. If you don't drink enough water during the day, your skin will look pale, and your lips will be sore, cracked, or flaky, making them smaller than they currently are.
Many people recommend you have at least six to eight water glasses daily for your lips to retain water and help them maintain their natural volume.
Several large brands provide people with special offers regarding lip liner products. While most of these special offers are for women's products, others are also made specifically for men.
Overall, liners create an illusion of having a larger bottom or top lip.
You only have to purchase a lip liner that matches your lip color and draw a line outside your lip shape. Many people have noticed a significant difference right away.
The only "bad" thing about this method is that it doesn't improve your lips naturally, so you would have to reapply the liner every once in a while.
Finally, balms (lip plumpers) are products that cause blood to rush to your skin's surface, causing transient swelling. In other words, these products will help you get more volume on your lips without getting injections.
Keep in mind that balms only allow you to get subtle changes. As with other parts of your skin, you may want to get injections if you want more significant changes.
Some lip balms come with shiny gloss finishes, so if you don't want the changes to be too evident, try to find a balm without these properties.
Does Lip Filler Look 
Good
 on Men?
The short answer is yes.
Lip filler treatment can help you achieve a more youthful look regardless of age.
While not many people are excited about getting dermal fillers, many specialized facilities offer a free consultation to get information about the different procedures, what to expect from the injectables, and many other things.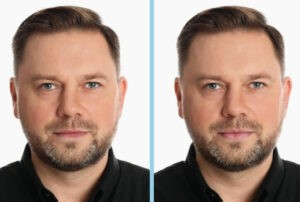 Best Anti-Ageing Lip Fillers for Male Lips
There will always be a few details in our bodies that we will want to take care of. Whether we notice our faces losing elasticity or some fine lines on our faces, finding the right people to get a procedure can be an excellent choice.
When it comes to fillers, remember that these are long-lasting treatments, and depending on your needs, the filler can be discreet enough that nobody notices you got any work done!
Fashion trends are changing how we perceive beauty in both men and women, which is why everyone is seeking safe treatments to make themselves look better and feel more confident.
Even if you didn't like how your lips looked after the augmentation procedure, you could easily get it reversed by an expert practitioner.
Either way, dermal fillers are recommended for patients to consider if they want to achieve correct symmetry, create definition, or boost their volume.
Key Takeaways
Dermal fillers for the lips are becoming a trend for men in Hollywood, and can provide fuller, more youthful lips.
Lip fillers work by injecting hyaluronic acid into the lips to boost the body's supply of HA to replace lost volume.
The main difference between lip augmentation for men and women is the desired amount of plumping.
The results of lip fillers are not permanent and can last between six to 12 months.
Some natural methods can help achieve a fuller look without lip fillers, such as exfoliation, shaving, hydration, lip liner, and lip balm.
Lip filler treatment can help achieve a more youthful look regardless of age.
Dermal fillers are recommended for patients to consider if they want to achieve correct symmetry, create definition, or boost their volume.
Find an Expert For Dermal Fillers
If you're over 18 years old and looking for a provider that offers dermal filler injections for men, don't hesitate to request a consultation from one of our clinics or a practitioner near you.
We offer specialized and recommended lip fillers for men that will help you remove any signs of ageing and develop a more beautiful, defined, and fuller lip structure.
Over 4,000 people in the UK have undergone treatment for skin imperfections with expert practitioner Dr. Majid Shah. He has treated patients of all ages and from different walks of life, and now you can experience the same story, results and quality of care.
The innovative treatments, including men's lip filler, that you'll find at the clinic are affordable and simple to book online.
Book a Free Patient Consultation
Dr Majid Shah is a specialist provider of  lip fillers Birmingham who can help you make an excellent  choice regards this treatment. Visit this page to book a Free consultation today!
 FAQ's
Does the Treatment Hurt?
Lip fillers are known for being relatively painless. You can expect the session to last 30 to 45 minutes, depending on the doctor and what parts of your skin you're going to inject and "plump."
According to several patients, the injections feel like "ant bites," so the sensation shouldn't be too painful. Some doctors administrate numbing cream to make the pain more tolerable.
Still, remember that all patients are different, so that the pain sensation may feel different for each person.
How Long Until You See Results?
Considering lip filler treatments use HA, the results are immediate. However, since your lips will bruise or swell, you may not see the outcome till after a few days. Depending on the treatment, you can expect the lips to settle after one or two weeks.
Those looking for a "natural" look are advised to take several lip filler appointments and gradually augment their lips.
Is It Possible to Reverse Treatment?
Yes! Some men initially don't like how the procedure went or leave their skin after looking at before/after photos.
In some rare cases, if the man presents some health problems after the injections, the clinic may offer a consultation to reverse the procedure.
Here, the patient will undergo a procedure where the clinic doctor will inject "hyaluronidase" into the affected area. Hyaluronidase is an enzyme that will help dissolve the HA, which will immediately reverse the effect of the acid on the skin and get the lip shape back to its natural one.
What Ingredients Does it Contain?
Now, this is where we get a bit technical. Overall, filler works with a substance, which is typically hyaluronic acid.
A practitioner injects that substance into the lips to boost the body's supply of HA to replace lost volume.
Aside from being great for making your lips look fuller, HA can also help reduce the look of wrinkles, define your facial shape, and overall improve your look.
Can you mix different fillers?
Yes, you can mix fillers in your lips. However, this should only be performed by a medical professional with extensive experience with injectable fillers. See our full article here on mixing different lip fillers.